Explore the lands beyond the boundaries of the city of a hundred spires
| FAQs – Daytrips and Excursions | How it Works |
We provide three kinds of day trips: | Regular Excursions | Private/Flexible Excursions | Combined Excursions |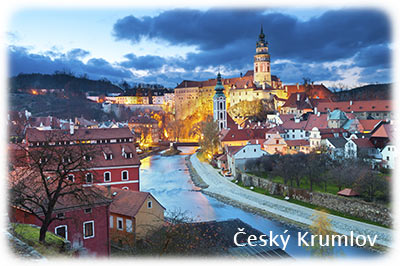 Prague is nicknamed 'the city of a hundred spires' for a reason. The numerous sightseeing spots and historical monuments make Prague a truly beautiful city, and a name on the bucket list of most tourists. However, it would be unwise to simply dwell on the beauties of Prague only, and not feast your eyes on the other wonders on offer beyond the boundaries of Prague.
One such wonder is Central Bohemia, rich with history and numerous castles; the former country seats of kings and aristocrats. The healing spas of Western Bohemia are famous, while nearby Terezín sings of the sad history of World War II. Alluring and ancient towns such as Český Krumlov are worth visiting in Southern Bohemia, while closer to Prague, Kutná Hora is another recommended tourist spot.
If you are travelling between Prague and other cities such as Vienna, Salzburg, Linz, Nuremberg, Passau, Munich, Krakow or Warsaw, you will come across plenty of sightseeing spots and stopping points stretched over a few hours' journey. We would recommend the trips from Prague to Passau and Prague to Vienna with a few hours' stop in Český Krumlov, seeing as these two trips are the most popular amongst our clients. Simply book transport with us and pay a minimal waiting fee – it is that simple to take advantage of this offer.
Regular Organized Excursions
The regular organized excursions are only held on specific times and dates. These excursions are shared with other tourists, guided by a professional guide and inclusive of all fees. Click here to read more.
Kutná Hora Tour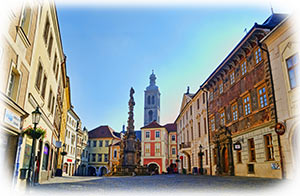 This ancient town was a centre of silver mining in medieval times, which made it the second richest town of the Bohemian Kingdom.
Numerous architectural monuments of Kutná Hora and a very well-preserved town centre speak of the fame and wealth of this historic town; fame and wealth which are still running strong today.
Price: CZK 1150 per person
Duration: Half a day (5.5 hours)
Český Krumlov Tour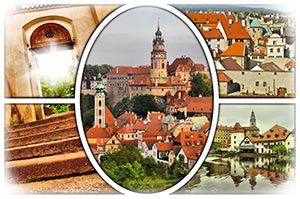 This medieval town in Southern Bohemia still emits some of its magic and charm today, and is registered as a UNESCO heritage sight – deservedly so.

Price: CZK 2090 per person

Duration: All day (11 hours)
Terezín Memorial Tour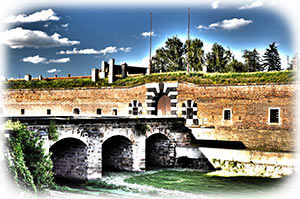 Built in the 18th century by Emperor Joseph II, this former military fort will always tell tales of World War II.
Price: CZK 1290 per person
Duration: Half a day (5 hours)
Karlovy Vary Tour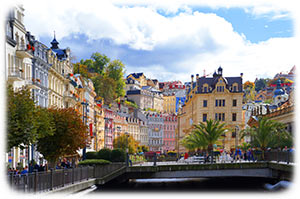 This town is the most famous spa town in all of the Czech Republic, with its history dating back to the 14th century – when Charles IV ruled. Renowned figures, such as the Russian Tsar Peter the Great and the world-famous poet Johann Wolfgang von Goethe had nothing but praise for the healing effects of the town's local mineral springs.
Price: CZK 1690 per person
Duration: All day (9.5 hours)
Dresden Tour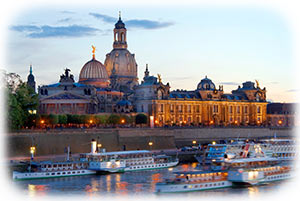 Home to the renowned 'Zwinger' Art Gallery, which in turn houses the famous Sixtin Madonna, the acclaimed picture by Raphael. You can also marvel at many other notable works by the Old Masters from the 14th to the 17th centuries – Rubens, Rembrandt, Poussin, etc.
Price: CZK 1950 per person
Duration: All day (11 hours)
Karlštejn Castle Tour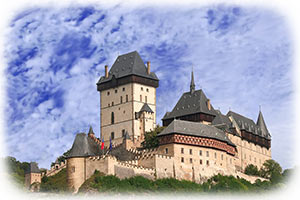 Built by Emperor Charles IV between 1348 and 1355, Karlštejn is one of the most visited castles in the Czech Republic. Karlštejn served not only as a depository of royal, imperial and coronation jewels, but also as an archive of state documents.
Price: CZK 1090 per person
Duration: Half a day (4.5 hours)
Flexible Private Excursions
The flexible private excursions are arranged at the time of your liking, and are exclusive to only your group. These excursions are exclusive of entrance fees and guides. Click here to read more.
Kutná Hora Private Tour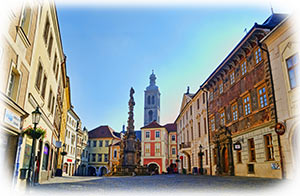 When silver ore was discovered here in the 13th century, Kutná Hora instantly became an important town, and remained so until the silver resources ran out in the 16th century. Some of the most important attractions of this town are the Gothic, five-naved St Barbara's Church – which was begun in 1388, the Italian Court – a former royal residence and mint, built towards the end of the 13th century, and the nearby Sedleč Ossuary. Some other factors which make Kutná Hora a very favourable destination for a day trip:
Small enough to be explored in a single day
Free of the hideous, Communist-era buildings that litter many of the other small towns in the country
Quite close to Prague
Price: CZK 3120 per vehicle
Duration: Half a day (6.5 hours)
Český Krumlov Private Tour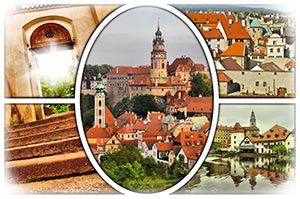 Situated in Southern Bohemia, this charming town is imbued with romance and is the second most visited tourist spot in Czech Republic. It has been registered as a UNESCO World Heritage Site, with over three hundred buildings falling under this status. Some of the most fascinating things to see here:
The Castle
The famous Hall of Masks
The unique Baroque theatre
The chateau garden with a Rococo fountain
Barber's Bridge
Alchemist's Homes
Eggenberg Brewery
Crafts Museum
Wooden river rafts
Price: from CZK 4500 per vehicle
Duration: All day (9 to 11 hours)
Karlovy Vary Private Tour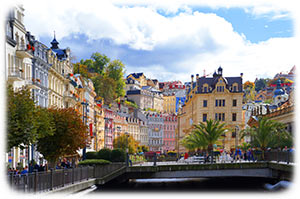 The town with natural thermal springs with healing effects, Karlovy Vary is the most famous spa town in the Czech Republic. King Charles IV discovered the thermal springs of Karlovy Vary in 1358, and since then many iconic figures such as Beethoven, Bach, Chopin and the Russian Tsar Peter the Great have been known to visit and enjoy the healing springs of this town. You can enjoy leisurely strolls along the beautiful riversides, be enchanted by the architectural gems, and visit thermal spas, pools and wellness centres all around the town. Some other factors which make this place famous:
Production of Porcelain and Glass (The Moser Factory)
Becherovka (one-of-a-kind Czech herbal liquor)
Delicious Spa Waffles
Price: from CZK 3600 per vehicle
Duration: All day (7 to 9 hours)
Terezín Memorial Private Tour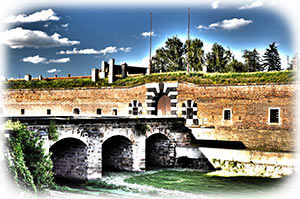 In Terezin, you will find a gigantic citadel with more than 4 km of walls, built in the 18th century by Emperor Joseph II and meant to be used as a defence against Prussian aggression. Terezin was used as a transit camp and prison of the Prague Gestapo by the Nazis during World War II. The Museum of the Ghetto will tell you of the desperately sad history of the Jews, of whom more than 150,000 were sent and only 17,247 survived.
Price: from CZK 2500 per vehicle
Duration: Half a day (5.5 hours)
Karlštejn Castle Private Tour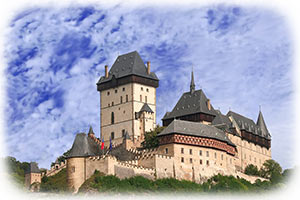 This medieval fortress is located in the middle of truly breathtaking countryside, and a return journey to Prague can be completed before nightfall. This close proximity to Prague makes Karlštejn one of the top tourist attractions in Prague. This alluring Gothic castle was founded in 1348, built by the Czech King and Roman Emperor Charles IV as a place for safekeeping of the royal treasures and documents.
Price: CZK 1600 per vehicle
Duration: Half a day (4 hours)
Pilsen Brewery Private Tour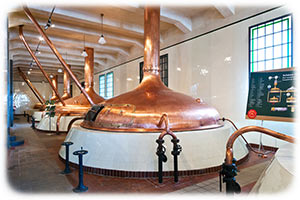 Mostly known as a city of commerce, the standout feature of this city is its production of the world class beer, Pilsner Urquell. This city is home to:
The Prazdroj Brewery, established in 1842
The Brewery Museum
Town Hall
Franciscan Monastery
Gothic Church of St Bartholomew
Price: from CZK 3200 per vehicle
Duration: Half a day (6 hours)
Konopiště Castle Private Tour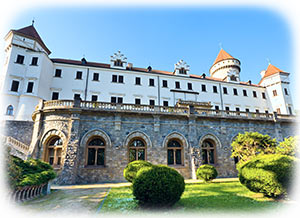 The Konopište Castle has a rich and diverse architectural history. The original castle was built to be used as a fortress while expressing the style of the French citadels. Afterwards, having different owners resulted in the fortress having both Baroque and Renaissance styles. The last private owner of this estate was Archduke Franz Ferdinand, who remained the owner until his death at the beginning of World War I.
Price: CZK 1700 per vehicle
Duration: Half a day (4 hours)
Křivoklát Castle Private Tour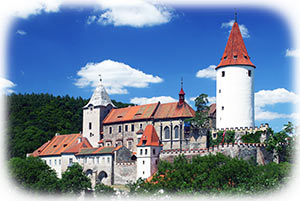 Originally a hunting castle of the Přemysl dynasty, this vast Gothic royal castle is from the 13th century
and was rebuilt at the end of the 15th century for Wladislaw Jagiello. It was used as a prison in the 16th century before being burnt down in 1643 and then finally being restored at the turn of the 19th and 20th centuries. The iconic interiors of the Castle include the Chapel, the Knight's Hall, the Royal Hall, the Fürstenberg library, the jail and the Fürstenberg museum, which houses the paintings and books.
Price: from CZK 1700 per vehicle
Duration: Half a day (4 hours)
Tip
We can arrange for customized excursions to your preferred destination upon request. Simply email us beforehand to let us know your desired destination.
Discounts
You can enjoy an 11% discount if you book an airport or train station transfer with us, and prepay for your booking online – both the tour and the transfer. Simply write 'Transport and Excursion 11% discount' when booking and you will be eligible for this offer. The booking payments must be cleared at least 24 hours before the pickup or tour dates.
Note that this promotion excludes tours which are already discounted (such as the Superior Tour special offer and Dinner on the River Cruise). Standard cancellation policy applies.
We've learned so much on this trip to the Karlovy Vary. Thank you for your organization, and the vast knowledge you have shared with us. Our driver Peter was better than a professional tour guide. Linda M., Manchester
Your excursion was exactly what I was looking for. Our driver was excellent and information DVD which we watched on the way to the Kutna Hora made our trip even better. Great value as well, highly recommended. Tonny S.
It is my pleasure to express my complete satisfaction with the superb trip to the Karlstejn. Short escape form bustling city … Please send my thanks to Martin, your driver. Izzak
Hello there, We attended this tour today, and I just wanted to write and say how much myself and my Mother enjoyed it! Our Guide was fantastic and so knowledgeable. Could you tell me her name? I didn't leave a tip with her but wish I had done. Would you be able to pass on my message of thanks. Helen Whitby, UK