For those arriving at the Prague bus station, we offer multiple transfer options to commute in the city.
| Private Transfers | Shared Transfers | Luxury Limousines | How to Find Your Driver at Bus Station |
Private Transfers from Prague Bus Station
 One way
Group

1 – 4 pers.

Group

5 – 8 pers.

Group

9 – 12 pers.

Group

13 – 16 pers.

Group

17 – 20 pers.

Group

21 – 49 pers.

Price
CZK 390
CZK 550
CZK 940
CZK 1100
CZK 1990
ZK 2990
 Vehicle
Sedan or Minibus Upgrade
Minibus
Minibus and Sedan
2x Minibus
Larger Minibus
Coach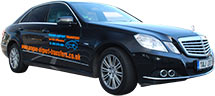 If you are in a hurry or just want to go to your hotel as soon as possible, this is the best option, as you are taken directly to your destination. You won't have to share the vehicle with anybody other than your own group members. Since the service comes for a fixed price, you don't have to worry about the high fares of metered taxi cabs, or any waiting charge due to traffic congestion. If you are travelling in larger groups, you can choose from our range of vehicles other than private taxis, including minivans, minibuses and coaches. The prices listed are inclusive of VAT.
Shared Shuttle Transfers
We regret to inform you that shared shuttle transfers are not offered to or from the bus stations of Prague. It is best to choose a private transfer or a luxury limo transfer service.
Limo Transfers from Bus Stations of Prague
| | | | | | | |
| --- | --- | --- | --- | --- | --- | --- |
|  One way | Mercedes E | Mercedes S | Lincoln TC120 | Ford Excursion | Hummer H200 | Cadillac Escalade |
| Price | CZK 550 | CZK 750 | CZK 1990 | CZK 3900 | CZK 4990 | CZK 4990 |
|  Capacity | Max. 3 pers. | Max. 3 pers. | Max. 8 pers. | Max. 14 pers. | Max. 20 pers. | Max. 20 pers. |
|  Vehicle | Vip Sedan | Vip Sedan | Streched Limo | Streched Limo | Streched Limo | Streched Limo |
|  Info | More info | More info | More info |  More info | More info | More info |
For those who love to travel in style, have a business meeting to attend, or are just looking for a good time in Prague, our limo transfer is a suitable option. It can pick you up from any bus station of Prague and take you to the city centre. You will not be sharing the limo with strangers, and can enjoy some luxurious time. The price for the limo transfer service is fixed, but depends on the size of your group.
Free Upgrade to Larger Vehicles!
If you are travelling with a larger group but have more luggage, regular taxi cabs may not be able to accommodate you, and may even charge extra for the luggage. Even sedans might not be the best option for you. But don't worry, we will upgrade you to a minivan or minibus free of charge, i.e. you still pay the same amount as you would pay for a sedan ride. All you have to do for that is select the "Minivan/minibus – free upgrade" option on the booking form.

The Following Forms of Payment are Acceptable:
Cash on arrival (we accept CZK, GBP, EUR and USD only)
Credit cards (you can make the payment online or pay the chauffer)
MC, Visa, AMEX, Diner's Club and JCB are acceptable
Bank transfers (for corporate customers)
PayPal
Note that the amount may vary slightly based on the exchange rate if you are paying in a currency other than CZK.